Aside from running the weekly art workshop, we also took part in Refugee Week and Christmas activities, paint murals, run other workshops… Check out our projects: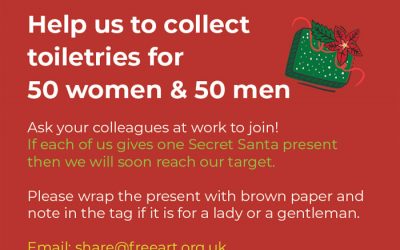 On Saturday 14th December 2019, from 2-4pm, we will have a Christmas party for the residents of Brigstock House at the Salvation Army. Donations of home-cooked party food and fresh fruit (grapes, strawberry) are welcomed. This year we are lucky to have the...
read more
If you want to get involved in our future projects please sign up for our newsletter! We hate spam so we only send out one email per project and never share your email address with anyone else. You can unsubscribe anytime.