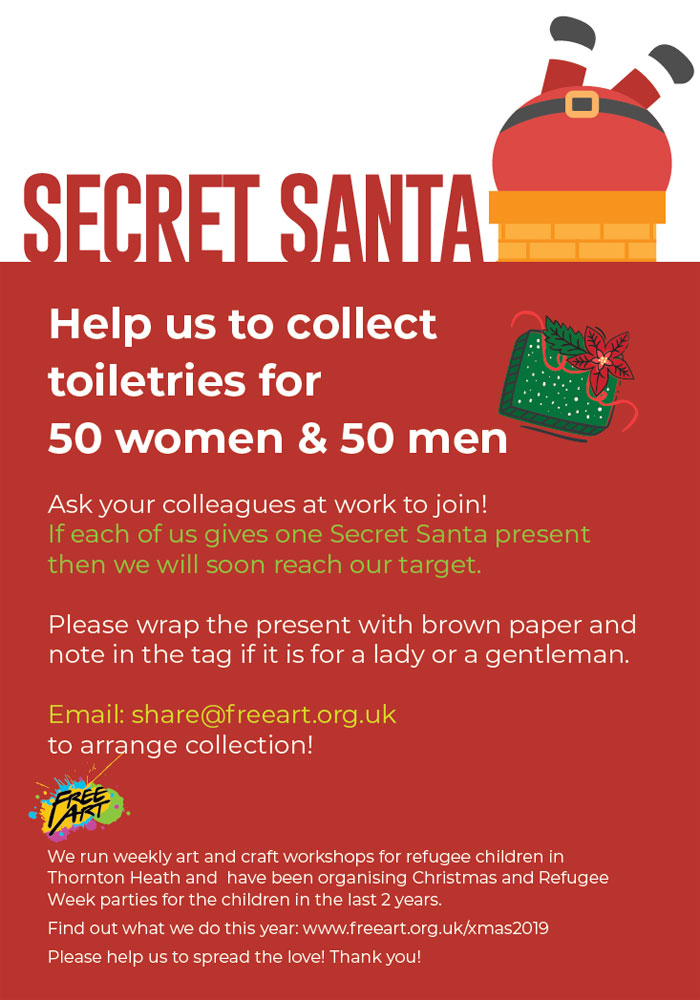 On Saturday 14th December 2019, from 2-4pm, we will have a Christmas party for the residents of Brigstock House at the Salvation Army.
This year we are lucky to have the fund to buy new presents for the children (here is how) so all we ask is the toiletries sets for the adults. Toiletry, especially deodorant for both men and women are highly appreciated.
If you would like to donate food or toiletries, please email share@freeart.org.uk to arrange a collection.
Thank you so much for all your help during the years. This is what we did in 2017 and 2018. Share the love!
Big thanks to Paul and Louise at the Salvation Army Thornton Heath, Pat and Jamil at Palace for Life and everyone at Thornton Heath Community Action Team who support us all the way!
HOW WE DID IT!
It is amazing how we did it and I still can't believe we did it! In September I have nothing but eagerness then Louise and Paul from the Salvation Army came onboard and gave us the hall for free. Ian McMeeken – the famous Santa Clause of South London – agreed to be our Santa then more and more people came and offer help.
Pat Gordon from Palace for Life, Jamil gave us so much time and effort to follow up from the beginning when we planned for 80 people. Then it came to 270 people and we had to control the number to 150 as the hall can only hold that many. Neal from our local pub The Railway Telegraph joined in and sponsored more than 1/3 of the hot food. Sunali from Taperia restaurant by Thornton Heath Pond gave us 10 yummy pizza for free! Fireaway pizza gave us big discount. Many local residents whom I haven't even met dropped off packs of toiletries for presents. 
We also have a grotto and our fantastic (real) Santa has growing his beard since September. We will have live music piano and violin (I feel so posh!). And amazing food from the Railway Telegraph: Meat Samosas, Vegetable Spring Rolls, Chicken Tikka, Mix Vegetable Chowmein, Chicken Biryani, Mixed Salad, Cucumber Raita. Yummy pizza from our local Taperia and Fireaway. If you would like to support us, please support our 3 fantastic restaurants. Book a table, pay them a visit, have your Xmas party there! They deserve a high-5!
If you google Thornton Heath, there are many depressing news so please can you share this blog to show what an amazing community we have in Thornton Heath. Thank you to all our volunteers! Without you we can never make it!